Exclusively Fabulous Boutique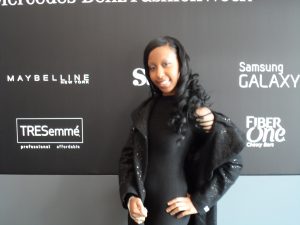 Before Fashion Week, I was on the hunt for THEE black dress. I happily stumbled across Exclusively Fabulous Boutique, and their clothing is true to the name.. fabulous. After falling in love with the name, I fell in love with their clothes (: . I find their clothing to be edgy and sophisticated. If you have that occasion that you just want to take it to the next level then this is definitely the place for you.  If you are already on that level then this is the spot. Exclusively Fabulous Boutique provided me with their black "Colada" shoes, "Cutesy" dress, and sparkly handbag. I wore their cutesy dress and sparkly handbag on the first day of fashion week, and you'll catch me in the "colada" shoes later on in the week!
This boutique has an array of items : dresses, tops, pants, jumpsuits, accessories, etc. At the Lasio event 2 of the stylists said that they liked my bag before I walked out. Today when I entered Lincoln Center this man stopped me and said "sparkly sparkly, loving the coat and bag" lol.
Thank you Exclusively Fabulous Boutique for providing me with my exclusively fabulous outfit!! xo
—
Follow Exclusively Fabulous Boutique!
Instagram – @ExclusivelyFab
Facebook – www.facebook.com/exclusivelyfabulous
Twitter – @ExclusivelyFab
xoxoPinkKisses