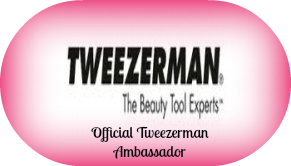 I was chosen to be apart of the Tweezerman Ambassador Program!
Yayyy!! Haha. I am so thankful and delighted to be chosen to join this program. I appreciate the fact that Tweezerman is acknowledging bloggers and giving us the opportunity to be apart of this! I was tickled pink while reading the letter included in our welcome package. "We have created the Ambassador Program for an exclusive group of Creative Digital Divas, specially selected." I love it! Lol.
As an ambassador we received a fabulous welcome package. We will receive new Tweezerman product every quarter, invitations to exclusive events, exclusive special offers, and other great benefits to come! I'm looking forward to everything.
 I've included pics of my new goodies, check 'em out below..
Items included in my welcome Tweezerman Package : 
Slant Tweezer
Satin Etched Zebra Slant Tweezer
Point Tweezer
Pointed Slant Tweezer
Mini Slant Tweezer
Eyenhance Pencil and Sharpener
Browmousse
ProCurl Lash Curler
Folding ILashcomb
Brow Shaping Scissors & Brush
Thank you Tweezerman!
xoxoPinkKisses